KHAPZORY is levoleucovorin—
the pharmacologically active isomer in modulation of fluorouracil. KHAPZORY enhances the therapeutic and toxic effects of fluorouracil in mCRC1,2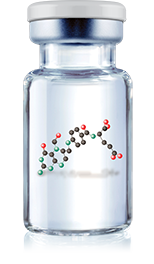 Levoleucovorin has unique pharmacologic properties
In pharmacokinetic studies, levoleucovorin was shown to have distinct characteristics in several dimensions1,3-6
Levoleucovorin
---
---
Indications and Usage
KHAPZORYTM is a folate analog indicated for:
Rescue after high-dose methotrexate therapy in patients with osteosarcoma.
Diminishing the toxicity associated with overdosage of folic acid antagonists or impaired methotrexate elimination.
Treatment of patients with metastatic colorectal cancer in combination with fluorouracil.
Limitations of Use
KHAPZORY is not indicated for the treatment of pernicious anemia and megaloblastic anemia secondary to lack of vitamin B12 because of the risk of progression of neurologic manifestations despite hematologic remission.
Important Safety Information
Contraindications
KHAPZORY is contraindicated in patients who have had severe hypersensitivity to leucovorin products, folic acid, or folinic acid.
Warnings and Precautions
Increased gastrointestinal toxicities with fluorouracil: Gastrointestinal toxicities, including stomatitis and diarrhea, occur more commonly and may be of greater severity and of prolonged duration. Deaths from severe enterocolitis, diarrhea, and dehydration have occurred in elderly patients receiving weekly

d,l

-leucovorin and fluorouracil. Do not initiate or continue therapy with KHAPZORY and fluorouracil in patients with symptoms of gastrointestinal toxicity until those symptoms have resolved. Monitor patients with diarrhea until it has resolved as rapid deterioration leading to death can occur.
Drug interaction with trimethoprim-sulfamethoxazole: Concomitant use of

d,l

-leucovorin with trimethoprim-sulfamethoxazole for the acute treatment of Pneumocystis jiroveci pneumonia in patients with HIV infection increased treatment failure and morbidity.
Adverse Reactions
The most common adverse reactions (≥20%) in patients receiving high-dose methotrexate therapy with levoleucovorin rescue were stomatitis (38%) and vomiting (38%).
The most common adverse reactions (>50%) in patients receiving levoleucovorin in combination with fluorouracil for metastatic colorectal cancer were stomatitis (72%), diarrhea (70%), and nausea (62%).
Drug Interactions
Leucovorin products increase the toxicity of fluorouracil.
Use in Specific Populations
Levoleucovorin is administered in combination with methotrexate or fluorouracil, which can cause embryo-fetal harm. Refer to methotrexate and fluorouracil prescribing information for additional information.
ISI-PP-KAP-00-0001
Reporting of Suspected Adverse Reactions
You are encouraged to report negative side effects of prescription drugs to the FDA. Visit www.fda.gov/medwatch or call 1-800-FDA-1088.
Zittoun J. Pharmacokinetics and in vitro studies of l-leucovorin. Comparison with the d and d,l-leucovorin. Ann Oncol. 1993;4(suppl 2):S1-S5.
FUSILEV [package insert]. Irvine, CA: Spectrum Pharmaceuticals, Inc.
Bleyer WA. New vistas for leucovorin in cancer chemotherapy. Cancer. 1989;63:995-1007.
Mader RM, Steger GG, Rizovski B, et al. Different stereospecific protein binding of tetrahydrofolates to human serum albumin. J Pharm Sci. 1994;83(9):1247-1249.
Straw JA, Szapary D, Wynn WT. Pharmacokinetics of the diastereoisomers of leucovorin after intravenous and oral administration to normal subjects. Cancer Res. 1984;44:3114-3119.
Sirotnak FM, Chello PL, Moccio DM, et al. Stereospecificity at carbon 6 of formyltetrahydrofolate as a competitive inhibitor of transport and cytotoxicity of methotrexate in vitro. Biochem Pharmacol. 1979;28:2993-2997.